At last week's PUMP'd, Aspen parent Kerry Stutzman talked about "The Most Important Parenting Skill There Is."
Here are three of her key points: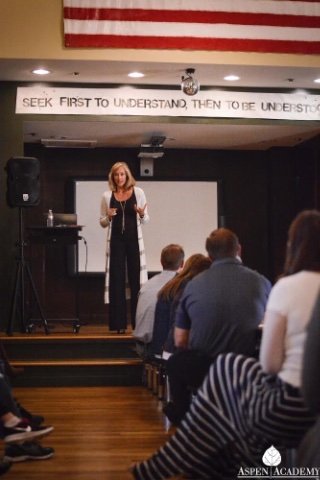 The most important parenting skill is to demonstrate EMPATHY before delivering a consequence for bad behavior."Connecting before Correcting" helps kids stay calm and in a thinking state. It might sound like this: "Oh sweetie, what a bummer that you didn't get your toys picked up because now they are in Toy Jail."
We help our kids if we look at their misbehavior and bad decisions as opportunities to learn rather than something for us to get mad about.We might stop and think, "What does my child need to learn and how can I use this as an opportunity to teach?" For example, leaving toys laying around indicates to us that our kids need more opportunities to practice cleaning up. Having them do extra cleaning up to earn their things out of "Toy Jail" can be a valuable lesson. If we stay loving and empathetic as they go through the discomfort of their "lesson," our children's hearts and minds can stay open to learn. Plus, our connection with them can stay strong.
When our kids become teenagers, the only access we have to their inner world is what they share with us.If we spend their childhoods demonstrating that every time they make a mistake, we get mad, then they are not likely to share their struggles and mistakes with us when they are teens. We WANT them to keep sharing with us because the decisions they regularly make as teens can be life-or-death or life-changing decisions.
Please mark your calendar for the next PUMP'd on >Friday, December 5th, 8:30 – 9:30 a.m.</span> Kristina Scala and Kerry Stutzman will present: "How to Craft Consequences That Make Sense for Kids." Kristina will share her favorite strategies and then everyone will have a chance to create their own consequences that make sense. Please mark your calendar now to "sharpen the saw" of your Love and Logic skills to build relationships that last a lifetime with your children.